ADRIA IS A MASTER SPEAKER & MAGICAL STORYTELLER ~ HIRSCH
Contact Adria now.  Call: +1 862 397-3254 or email: adria [at] adriafirestone.com. Professional or personal development? Choose your format: keynote, seminar, master class, workshop or online event.
John Hoomes, General & Artistic Director, Nashville Opera

It is not often in life that one is fortunate enough to meet a dynamic individual who can truly be termed a "a force of nature," but Adria Firestone is just that.  She is well-spoken, multi-talented and brilliant at communicating with and inspiring an audience, whether the setting be a darkened theater, a student master class, or a professional boardroom. Her positive attitude and inspiration are infectious. Adria Firestone's passion and generosity for sharing her skills are a special gift to be experienced by all.
Ann Corbett, MS, BSN, RN, Hackensack University Medical Center

Words cannot express our gratitude for your visit. The patients on our floor have all experienced traumatic life changes due to their diagnosis of cancer.

You provided our patients with a customized presentation which addressed their needs and provided a safe, comfortable space for them to discuss their fears while visualizing a new tomorrow. Thank you from our patients and nursing staff, for visiting HUMC 8PE and breathing new life into the hearts of our disheartened patients.
Adria Firestone
Office: +1 862 397-3254
Fax: +1 630 604-3588
email: adria [at] adriafirestone.com
adriafirestone.com, youaretheartistofyourlife.com, afiartists.com
Professional Development & Personal Growth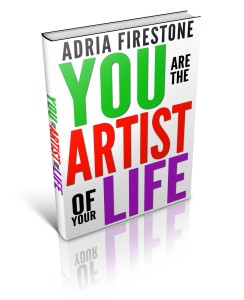 Adria's book, You Are the Artist of Your Life is the springboard to ignite your next event. Plan a weekend workshop or a rousing keynote at large event. download one sheet
You Are the Artist of Your Life  You created your with the brushes of your experience. Learn how to pick new colors and create a life you love.
Adria is a master speaker and magical storyteller. She is authentic, transforms her listeners and combines common sense with engaging humor.

Michael Hirsch

Director | Actor | Composer
Your speaking is infused and driven by spirituality, love, peace and kindness. It was immensely satisfying to see people grow in response to what you give.

Lee Moore

Software & Systems Designer
University & School Programs
A university professor since 2003, Adria speaks the language of her students. 
College one sheet.
MUSIC & DRAMA
The ZEBRA Method
 Adria leads the emerging performer to honest evaluation of their ability, audition prep, best use  of internet resources and how to develop  focus and power.

The Business of Show Business    Young artists learn how to keep their integrity and sanity intact while building their brand, strengthening their performance skills and deepening their artistic impact. Music one sheet  
Passionate, Interesting, AMAZING SPEAKER! Firestone was a wonderfully talented woman who brought glee to the people she met. She taught us the three c's: Compassion, Collaboration and Creativity.

Attendees at the Girls Career Institute

New Jersey Greater Federation of Women's Clubs